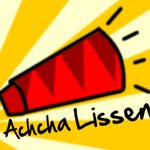 The Real Veda
Veda designs things. She writes silly verse, songs and articles; plays the guitar; and sometimes sings. Most of her work is on display in friends' bedrooms and office workstations. She thinks tofu is a private joke between paneer and cardboard. She also loves swimming, and cycles to nearby places and sometimes to places that aren't so nearby. Veda lives in Pune with two parents and no pets. The Real Veda joined Society6 on May 21, 2013
More
Veda designs things. She writes silly verse, songs and articles; plays the guitar; and sometimes sings. Most of her work is on display in friends' bedrooms and office workstations.
She thinks tofu is a private joke between paneer and cardboard. She also loves swimming, and cycles to nearby places and sometimes to places that aren't so nearby.
Veda lives in Pune with two parents and no pets.
The Real Veda joined Society6 on May 21, 2013.