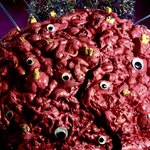 There's A Thing in There
There's a Thing in There is an Orlando-based puppetry production company. Our scope of works includes live theatre, walk-around characters, and film. We emphasize non-traditional storytelling and character design and narratives that are inspired by mythology and the subconscious. There's A Thing in There joined Society6 on August 20, 2014
More
There's a Thing in There is an Orlando-based puppetry production company. Our scope of works includes live theatre, walk-around characters, and film.
We emphasize non-traditional storytelling and character design and narratives that are inspired by mythology and the subconscious.
There's A Thing in There joined Society6 on August 20, 2014.