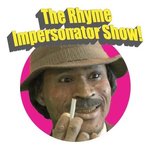 therhymeimpersonatorshow
Welcome to the official Society 6 site of THE RHYME IMPERSONATOR SHOW - Web Series & You-Tube Partner Channel! Every purchase helps to keep the production of our show going.. SUBSCRIBE & WATCH Seasons 1-5 and some other cool content on our YOU-TUBE PARTNER CHANNEL at www.youtube.com/therhymeimpersonator ARTIST SPOTLIGHT SERIES! (MONDAYS 2:00pm EST.) Produced by: ICP Entertainment www.icpentertainment.com LIKE US ON FACEBOOK @ http://www.facebook.com/therhymeImpersonatorshow FOLLOW US on Instagram at www.instagram.com/therhymeImpersonatorshow FOLLOW US on Twitter @newcomedyshow On behalf of the entire Rhyme Impersonator Show Family WE THANK YOU IN ADVANCE FOR YOUR SUPPORT! SHUKRIYAH therhymeimpersonatorshow joined Society6 on January 25, 2013
More
Welcome to the official Society 6 site of THE RHYME IMPERSONATOR SHOW - Web Series & You-Tube Partner Channel!
Every purchase helps to keep the production of our show going.. SUBSCRIBE & WATCH Seasons 1-5 and some other cool content on our YOU-TUBE PARTNER CHANNEL at www.youtube.com/therhymeimpersonator
ARTIST SPOTLIGHT SERIES! (MONDAYS 2:00pm EST.) Produced by: ICP Entertainment www.icpentertainment.com
LIKE US ON FACEBOOK @ http://www.facebook.com/therhymeImpersonatorshow FOLLOW US on Instagram at www.instagram.com/therhymeImpersonatorshow FOLLOW US on Twitter @newcomedyshow
On behalf of the entire Rhyme Impersonator Show Family WE THANK YOU IN ADVANCE FOR YOUR SUPPORT! SHUKRIYAH
therhymeimpersonatorshow joined Society6 on January 25, 2013.
Bags by therhymeimpersonatorshow
1 result
Filter