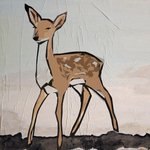 TheSodaArtStudio
Ever doodle, scratch, scribble, jot or draw? I have my whole life, creating images on canvas, wood boards, furniture, photographs, picnic tables (sorry city park services!), tiny note pads and of course, all sorts of paper, even bark. I've reunited with friends who have surprised me by sharing that they saved little doodles that I had handed them either in school (sorry teachers) or work (oops, sorry boss's) to help my wandering mind and reduce my boredom. A friend saying they save my squiggles makes me feel good, like a child whose mother stores away keepsakes of their childhood art. More than that, it shows that even in small ways, I'm achieving something that I've always wanted to be part of my core being, to make a mark. My life has many great marks with two great sons, awesome spouse, and dogs (barkers) who all have given me unconditional love. Life has supplied me with eyes that find things in nature, in people, in man-made structures, landscapes and animals that move me to share what I see. I have used a large assortment of media including hand hooked rugs, collages, acrylic canvas painting, jewelry, metal sculptures, found natures works and now digital art! When you look at my work, do you see something that leaves an impression? If you do, you'll be building me into what I want to be. For that, I thank you. TheSodaArtStudio joined Society6 on July 6, 2016
More
Ever doodle, scratch, scribble, jot or draw? I have my whole life, creating images on canvas, wood boards, furniture, photographs, picnic tables (sorry city park services!), tiny note pads and of course, all sorts of paper, even bark.
I've reunited with friends who have surprised me by sharing that they saved little doodles that I had handed them either in school (sorry teachers) or work (oops, sorry boss's) to help my wandering mind and reduce my boredom. A friend saying they save my squiggles makes me feel good, like a child whose mother stores away keepsakes of their childhood art. More than that, it shows that even in small ways, I'm achieving something that I've always wanted to be part of my core being, to make a mark.
My life has many great marks with two great sons, awesome spouse, and dogs (barkers) who all have given me unconditional love. Life has supplied me with eyes that find things in nature, in people, in man-made structures, landscapes and animals that move me to share what I see. I have used a large assortment of media including hand hooked rugs, collages, acrylic canvas painting, jewelry, metal sculptures, found natures works and now digital art!
When you look at my work, do you see something that leaves an impression? If you do, you'll be building me into what I want to be. For that, I thank you.
TheSodaArtStudio joined Society6 on July 6, 2016.