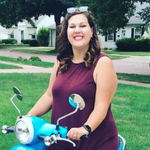 Mathis Designs
Hi! I'm Steph Mathis, artist of Mathis Designs, and I'm a Midwestern born girl boss working to run a financially independent art and design business. My artwork is a variety of hand drawn, digitally rendered pieces and graphic design. My first love has always been painting and I use Photoshop to experiment with my pieces as well as elements purchased from other artists. I love to try different designs and see them come to life on products!
Best moment of my life: Marrying my husband. Also seeing a bear on our honeymoon. I love bears!
If I could change one thing about myself, it would be: Allergies suck!
My future goals: Become a mom. Preferably a stay at home mom who makes art and raises my babies.
/ / /
Website: www.mathisdesigns.com
/ / /
Social: instagram.com/mathisdesigns facebook.com/mathisdesignsia pinterest.com/mathisdesigns
Contact: thestephmathis@gmail.com
Read more