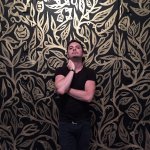 Sean Martorana
Visual artist. Designer by trade, artist by nature, painter by passion, collaborator by desire, creative by DNA.
Spectator of life through a lens. Dresser of t-shirtless torsos, bijoux-less bodies. Decorator of people, decorator of places. Enhancer of lifestyles.
Former business owner. Brand designer, marketing maker, identity describer.
Shown in galleries, featured in publications, commissioned by passionate individuals. Collaborator with like-minded forces of awesome.
Live to create. Create to inspire. Constantly explore. Become versatility. Draw life blood and humility through outside appreciation. Job always well done, because there is no other way.
Life without art is none at all, and I intend on a long, long life.
Read more
Sean Martorana's Store
Filter