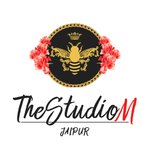 The Studio M
The label was started with love to create all things beautiful..."There is beauty in everything around us; we just need to have an eye for it!" And that's what the label believes to instill across… The label expresses contemporary aesthetics through opulent hand embellishments & in-house textile prints with dainty, sophisticated & feminine silhouettes/ products inspired from a strong culture/art/story. At the Studio you will find both Prêt-à-porter & Couture Apparels created using in-house textile prints/ hand embellishments. Contemporary Silhouettes | Textile Prints & Hand Embellishments | Fresh Hues NJAL | https://www.notjustalabel.com/designer/the-studio-m INSTAGRAM | https://www.instagram.com/thestudiomjaipur/ The Studio M joined Society6 on June 22, 2015
More
The label was started with love to create all things beautiful..."There is beauty in everything around us; we just need to have an eye for it!" And that's what the label believes to instill across…
The label expresses contemporary aesthetics through opulent hand embellishments & in-house textile prints with dainty, sophisticated & feminine silhouettes/ products inspired from a strong culture/art/story. At the Studio you will find both Prêt-à-porter & Couture Apparels created using in-house textile prints/ hand embellishments.
Contemporary Silhouettes | Textile Prints & Hand Embellishments | Fresh Hues
NJAL | https://www.notjustalabel.com/designer/the-studio-m
INSTAGRAM | https://www.instagram.com/thestudiomjaipur/
The Studio M joined Society6 on June 22, 2015.