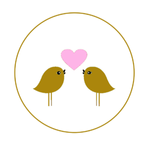 The Trendy Sparrow
TheTrendySparrow produces chic, sophisticated art prints for the home that can be described as mixing vintage class with modern sass. People often ask me, "Why is your store called 'The Trendy Sparrow'? For as long as I can remember, my grandmother called me her "little sparrow". Combine that with my love for fashion and other trends, you get "The Trendy Sparrow". With a chic and vintage style, The Trendy Sparrow is often inspired by the girl who dances to her own beat, thinks outside the box, and isn't afraid to try something new. I wanted to create something for those chic, unique, and quirky personalities that aren't willing to stick to tradition. I want the emerging souls, the risk takers, the rule breakers, and polka dot wearers. Those are my customers. Thanks for stopping by and please take a look around. -Lindzi Shanks (The Trendy Sparrow) www.thetrendysparrow.etsy.com ---------------------------------------------------------------------------------------- Wholesale and Retail inquires can be sent to trendysparrow@gmail.com. Like me on Facebook for sales and giveaways! facebook.com/thetrendysparrow Check out my blog for posts about the store, crafts, fashion, home decor and more! trendysparrow.blogspot.com Follow me on Twitter: twitter.com/trendysparrow Follow me on Pinterest to what inspires me: pinterest.com/trendysparrow Follow me on Instagram to what is going on with the shop and my life: instagram.com/thetrendysparrow The Trendy Sparrow joined Society6 on July 6, 2014
More
TheTrendySparrow produces chic, sophisticated art prints for the home that can be described as mixing vintage class with modern sass.
People often ask me, "Why is your store called 'The Trendy Sparrow'? For as long as I can remember, my grandmother called me her "little sparrow". Combine that with my love for fashion and other trends, you get "The Trendy Sparrow". With a chic and vintage style, The Trendy Sparrow is often inspired by the girl who dances to her own beat, thinks outside the box, and isn't afraid to try something new. I wanted to create something for those chic, unique, and quirky personalities that aren't willing to stick to tradition. I want the emerging souls, the risk takers, the rule breakers, and polka dot wearers. Those are my customers.
Thanks for stopping by and please take a look around.
-Lindzi Shanks (The Trendy Sparrow) www.thetrendysparrow.etsy.com
---
Wholesale and Retail inquires can be sent to trendysparrow@gmail.com.
Like me on Facebook for sales and giveaways! facebook.com/thetrendysparrow
Check out my blog for posts about the store, crafts, fashion, home decor and more! trendysparrow.blogspot.com
Follow me on Twitter: twitter.com/trendysparrow
Follow me on Pinterest to what inspires me: pinterest.com/trendysparrow
Follow me on Instagram to what is going on with the shop and my life: instagram.com/thetrendysparrow
The Trendy Sparrow joined Society6 on July 6, 2014.
The Trendy Sparrow's Store
298 results
Filter