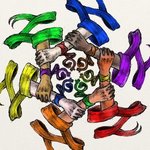 The Vagabond Studio
Hello, and welcome! Thanks for your interest in my artwork! My name is Nicholas Jordan, and I have been creating art since I could hold a crayon as a child. My inspirations come from many sources, with a healthy dose from living and growing up in places like New Orleans, San Francisco, and elsewhere. From classic motifs, abstractions, anatomic studies and portraiture, to the more edgy, off the top of my head designs, I have many interests and influences. Being a creative is my cheap therapy, and my wish is to share some of that process and happy outcomes with the world. I am a terminal optimist, and I feel like that translates within most of my work. Feel free to ask me anything, and share these projects around! ~with gratitude, Nicholas The Vagabond Studio joined Society6 on December 29, 2013
More
Hello, and welcome!
Thanks for your interest in my artwork! My name is Nicholas Jordan, and I have been creating art since I could hold a crayon as a child. My inspirations come from many sources, with a healthy dose from living and growing up in places like New Orleans, San Francisco, and elsewhere. From classic motifs, abstractions, anatomic studies and portraiture, to the more edgy, off the top of my head designs, I have many interests and influences.
Being a creative is my cheap therapy, and my wish is to share some of that process and happy outcomes with the world. I am a terminal optimist, and I feel like that translates within most of my work.
Feel free to ask me anything, and share these projects around!
~with gratitude, Nicholas
The Vagabond Studio joined Society6 on December 29, 2013.
The Vagabond Studio's Store
33 results
Filter