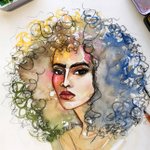 The Wildest Flower
Maryam Gaber is a passionate and ever-evolving painter and creative thinker from Cairo, Egypt who now lives and works in Los Angeles, California.
She produces striking portraits and illustrations using inks and watercolors as her mediums of choice
Maryam has studied drawing, painting, photography and art education in Paris, Boston and Chicago. She graduated from the School of the Art Institute of Chicago and holds a Bachelors of Fine Arts degree with an Emphasis in Art Education.
Maryam is available for various projects such as: beauty & fashion illustration, editorial illustration, pattern surface design, portraits, hand lettering, art direction and photography.
Read more