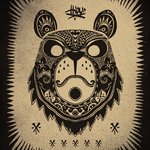 THEY77
THEY Born in Johor, Malaysia. THEY lives and works at his home studio in Kuala Lumpur, Malaysia with his fiance Julia. When THEY was in high school, he was exposed to Street Art Culture and Graffiti through skateboard magazines and the internet. Since then THEY became a Street Artist and has never looked back, adopting his childhood nickname THEY as his artist name. THEY's work can be divided into two categories and merges all frontiers between painting, drawing and street art. THEY's combination of traditional and newer methods contrast and give birth to stylized works centered in context to origin, identity and sub-cultures. This assimilation concocts a curios uniqueness. THEY favors to express himself on different bases: canvas, wood, paper and the walls also regarded as "The huge Gallery". THEY77 joined Society6 on March 21, 2013
More
THEY Born in Johor, Malaysia. THEY lives and works at his home studio in Kuala Lumpur, Malaysia with his fiance Julia. When THEY was in high school, he was exposed to Street Art Culture and Graffiti through skateboard magazines and the internet. Since then THEY became a Street Artist and has never looked back, adopting his childhood nickname THEY as his artist name.
THEY's work can be divided into two categories and merges all frontiers between painting, drawing and street art. THEY's combination of traditional and newer methods contrast and give birth to stylized works centered in context to origin, identity and sub-cultures. This assimilation concocts a curios uniqueness. THEY favors to express himself on different bases: canvas, wood, paper and the walls also regarded as "The huge Gallery".
THEY77 joined Society6 on March 21, 2013.