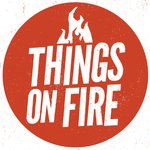 Things on Fire (Chris Hood)
THINGS ON FIRE is the one man freelance design studio of Chris Hood, spanning the disciplines of Graphic Design, Illustration & Printmaking, proudly based in Leeds, West Yorkshire. Along with creating work for other people, Chris also spends his days making hand screen printed posters, art prints and gifts. He has something of a passion for continental supermarket graphics, the combination of ink and paper, the children's toy "Spirograph" and the films of Stanley Kubrick, all of which sometimes find their way into his work. To view my portfolio or get in touch, visit http://thingsonfiredesign.com Things on Fire (Chris Hood) joined Society6 on July 19, 2010
More
THINGS ON FIRE is the one man freelance design studio of Chris Hood, spanning the disciplines of Graphic Design, Illustration & Printmaking, proudly based in Leeds, West Yorkshire.
Along with creating work for other people, Chris also spends his days making hand screen printed posters, art prints and gifts. He has something of a passion for continental supermarket graphics, the combination of ink and paper, the children's toy "Spirograph" and the films of Stanley Kubrick, all of which sometimes find their way into his work.
To view my portfolio or get in touch, visit http://thingsonfiredesign.com
Things on Fire (Chris Hood) joined Society6 on July 19, 2010.