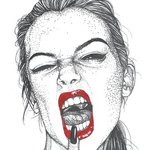 this is jolicoeur
Emmanuelle Wielgus, 21, is from Vancouver BC and currently resides in Portland, Oregon. She specializes in portraits rendered in ink, colored pencil and Sharpie; takes photos, and dabbles in ceramics. She enjoys Miyazaki films, hydrogenated peanut butter, 60s French pop music and resuscitating dying plants. She does not like raw broccoli or conceptual art. this is jolicoeur joined Society6 on February 24, 2015
More
Emmanuelle Wielgus, 21, is from Vancouver BC and currently resides in Portland, Oregon. She specializes in portraits rendered in ink, colored pencil and Sharpie; takes photos, and dabbles in ceramics.
She enjoys Miyazaki films, hydrogenated peanut butter, 60s French pop music and resuscitating dying plants. She does not like raw broccoli or conceptual art.
this is jolicoeur joined Society6 on February 24, 2015.
this is jolicoeur's Store
74 results
Filter