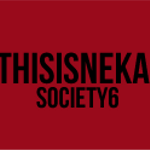 thisisneka
Welcome to my shop! I am a 25 year old graphic designer, currently in school getting a bachelors degree in Studio Art (with a concentration of graphic design). I absolutely love designing and all things art. I'm also a lover of astrology and anything that keeps me at peace. If you have any questions, feel free to contact me on my twitter, which is @thisisneka. thisisneka joined Society6 on July 14, 2012
More
Welcome to my shop!
I am a 25 year old graphic designer, currently in school getting a bachelors degree in Studio Art (with a concentration of graphic design). I absolutely love designing and all things art. I'm also a lover of astrology and anything that keeps me at peace.
If you have any questions, feel free to contact me on my twitter, which is @thisisneka.
thisisneka joined Society6 on July 14, 2012.
thisisneka's Store
44 results
Filter