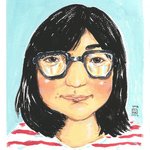 Natcharee Hansaward / GINKGO
Natcharee Hansaward (GINKGO) is an illustrator and artist base in Bangkok, Thailand. Interested in wildlife, nature, philosophy, history, book and human-being. Using mostly traditional mediums such as graphite, pen drawing, and painting in heart-warming coloured tonal illustration. She loves to experiment new techniques for creating various textures, surfaces and movements in her fine art works as well. For freelance/commission work, contact : natcharee.han@gmail.com Natcharee Hansaward / GINKGO joined Society6 on December 18, 2015
More
Natcharee Hansaward (GINKGO) is an illustrator and artist base in Bangkok, Thailand. Interested in wildlife, nature, philosophy, history, book and human-being. Using mostly traditional mediums such as graphite, pen drawing, and painting in heart-warming coloured tonal illustration. She loves to experiment new techniques for creating various textures, surfaces and movements in her fine art works as well.
For freelance/commission work, contact : natcharee.han@gmail.com
Natcharee Hansaward / GINKGO joined Society6 on December 18, 2015.