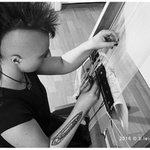 Michelle Driver - Threefold Designs
I am passionate about the ancient technique of hand woven tapestry, and am drawn to its complex and textural nature. The juxtaposition of a historically rich medium twisted to create non-conformist pieces is part of the attraction.
My aim is to push the boundaries of what contemporary art is considered to be. A seemingly outdated medium can be transformed into unconventional artworks which are both tactile and visually striking.
Using greyscale with minimal pops of colour against a strong black background, I have developed a distinctive visual language. Although the themes I work with are varied, I like to maintain my dark aesthetic.
Currently I am working on my 'Windows' series, which are portraits based on x-rays and CT scans. My new series 'Theatre of the Grotesque' has been inspired by vintage medical illustrations.
Read more
Michelle Driver - Threefold Designs's Store
72 results
Filter