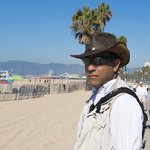 Through the Eyes of my Lens
I never say no to an adventure. Nikon in hand, I am driven by wanderlust and a childlike curiosity to explore the world around me. Luckily, my job has enabled me to travel to exotic locales all over the world and meet fascinating people. I've spent time with locals in Malaysia, hiked the massive canyons of Zion national park, trekked to the top of mount Botev in the Balkans and ate the local food in Montenegro and Croatia. I have places in three continents I call home but currently I reside in Dubai, UAE. Photographer's statement: Photographers by and large are often defined by their equipment and their process. Someone once said, "I have a camera so therefore I am a Photographer". This often puts us in the "Photographers" box or mindset and venturing outside of that box often brings all sorts of criticism from other "Photographers". To reach a different level you need to stop thinking like a "Photographer" and start thinking with your creative juices. This will allow you to express your creative vision without conforming to the traditional "photographers" mindset. Please visit my website for additional images not displayed here. https://www.throughtheeyesofmylens.com/ Through the Eyes of my Lens joined Society6 on March 3, 2015
More
I never say no to an adventure. Nikon in hand, I am driven by wanderlust and a childlike curiosity to explore the world around me. Luckily, my job has enabled me to travel to exotic locales all over the world and meet fascinating people. I've spent time with locals in Malaysia, hiked the massive canyons of Zion national park, trekked to the top of mount Botev in the Balkans and ate the local food in Montenegro and Croatia.
I have places in three continents I call home but currently I reside in Dubai, UAE.
Photographer's statement: Photographers by and large are often defined by their equipment and their process. Someone once said, "I have a camera so therefore I am a Photographer". This often puts us in the "Photographers" box or mindset and venturing outside of that box often brings all sorts of criticism from other "Photographers".
To reach a different level you need to stop thinking like a "Photographer" and start thinking with your creative juices. This will allow you to express your creative vision without conforming to the traditional "photographers" mindset.
Please visit my website for additional images not displayed here. https://www.throughtheeyesofmylens.com/
Through the Eyes of my Lens joined Society6 on March 3, 2015.
Through the Eyes of my Lens's Store
206 results
Filter