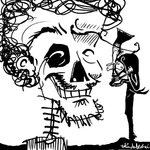 thunderbloke!
i am an artiste/gentleman-of-the-road/feminista/idiot from England. join me and together we will eat cynics and ride unicorns and stuff
i like to do illustration. the new stuff i'm doing is up here on Soc6 but you can see some older stuff here http://bit.ly/eZGKPK and here http://bit.ly/uqywsl but only if you click the links.
i also like to make things with my hands out of the bits of rubbish and paper and wire i find. you can see some of them on thedangerlaughers.blogspot.com
and if you want to keep up with me and my goings on you can 'like' me on facebook.com/akathunderbloke
or follow me on twitter.com/thunderbloke
Read more
Cards by thunderbloke!
3 results
Filter