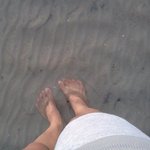 Thuy Ngo
I am a full time mother trying to enjoy the little time I have to get back into drawing. I'll try to put up more artwork as I am very busy running around with my little one. I am a traditional artist by nature; however, I am also creative in photography, graphic design and web design. I have an interest in drawing portraiture, whether it's animals or humans - I love a little challenge. Thank you for viewing my artwork, I hope you enjoy them and buy a few items. I also do commission work if you have something in mind. Thuy Ngo joined Society6 on November 20, 2014
More
I am a full time mother trying to enjoy the little time I have to get back into drawing. I'll try to put up more artwork as I am very busy running around with my little one. I am a traditional artist by nature; however, I am also creative in photography, graphic design and web design. I have an interest in drawing portraiture, whether it's animals or humans - I love a little challenge.
Thank you for viewing my artwork, I hope you enjoy them and buy a few items. I also do commission work if you have something in mind.
Thuy Ngo joined Society6 on November 20, 2014.