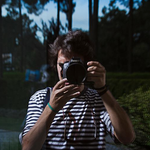 Tiago Rodrigues da Costa
Portuguese student journalist with nine years of experience mostly in the photography field. Established partnerships with multiple non-journalistic media producers as lifestyle magazines, audiovisual companies, agencies or corporations. Granted a scholarship, and moved to the United States to study communications and journalism at Southern Utah University. Exchanged at the University of Oregon. Pursuing documentary photography and investigative journalism. Topics of interest are society, politics and religion.
"I started to study photography and soon I felt connected with this art like Malcolm X in his essay "Literacy Behind Bars" did with his desire for words and stories. He was self-taught, had an intensive aim to learn. His sensation of freedom through literature and learning was everything as he explains, "In fact, up to then, I never had been so truly free in my life" (580). I felt similarly with photography because I found a voice to express myself. To me, photography was writing with light; and for the first time, I was in a school who praised my creativity and wanted me to think out of box. Teachers asked me for new ways to see the world showing me that creativity is a life definition without limits. I felt happy studying for the first time."
Read more
Prints by Tiago Rodrigues da Costa
12 results
Filter