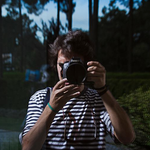 Tiago Costa
January 20, 1990, Lisbon. This is the date of birth and birthplace of a man called Tiago Miguel Rodrigues da Costa. Born into a traditional family that came from a rural environment into Portugal's inland, he has been raised to appreciate the simple things in life, and early, created a beautiful empathy with art and culture. In 2007, Tiago introduced himself to the world of photography and it's market. Studied Professional Photography at Escola Profissional de Imagem in Lisbon and completed his High School degree in July 2010. Since then, he has invested a lot of time and money to keep himself in a high standard of quality and personal demanding to achieve success. Professionally, everything started when he was only 17 years old. The music scene was the starting point, specializing himself at that time in reggae and african beats. As a surfer and a person living close to the surf culture since his 15 years old, did not take long time to start documenting the lifestyle and publish his work on portuguese magazines. To add to that, he also had publications in some international magazines. Since then, he has been increasingly deepening his professionalism in other fields inside photography, using always the same vision, the same values. Portrait photography, street photography, architecture, or even photography in specific events are part of Tiago's portfolio. If we could characterize the vision of Tiago it would certainly be Documentary Photography. In all that he does he always seeks the historical side frozen in the present with the aim of being appreciate and possibly studied in the future. His photographic line is very naturalistic, simplistic, sometimes it does not exempt an aesthetic side, but never unrealistic. He's influenced by artists like James Nachtwey, Don McCullin, Sally Mann, Alec Soth, Fan Ho, William Klein, Robert Frank, Vivien Maier, Lewis Hine, Alfred Stieglitz, Solomon Butcher and much more. Growing in a digital era, it is digital sensors his main working support but he loves and respect the older techniques, the film, the authenticity from being mechanical, the way he cares each frame. With film, almost 35mm, he has been working on some personal projects. At 25 years of age, Tiago is still a young photographer with much to learn. Last January of 2015, he had a good experience traveling to New York city and studying at the International Center of Photography with instructors as Beb Reynol and Harvey Stein. Recently he receive an opportunity from Southern Utah University to make his BA in United States majoring himself in Communication with a specific concentration in Media Studies. "I want to belong to this new generation of successful photographers. For that I know I need to constantly show hard work, dedication and goal-directness. All of this without forgetting my own personality and identity, to be myself and be recognized for it." Tiago Costa joined Society6 on December 11, 2014
More
January 20, 1990, Lisbon. This is the date of birth and birthplace of a man called Tiago Miguel Rodrigues da Costa. Born into a traditional family that came from a rural environment into Portugal's inland, he has been raised to appreciate the simple things in life, and early, created a beautiful empathy with art and culture.
In 2007, Tiago introduced himself to the world of photography and it's market.
Studied Professional Photography at Escola Profissional de Imagem in Lisbon and completed his High School degree in July 2010. Since then, he has invested a lot of time and money to keep himself in a high standard of quality and personal demanding to achieve success.
Professionally, everything started when he was only 17 years old. The music scene was the starting point, specializing himself at that time in reggae and african beats. As a surfer and a person living close to the surf culture since his 15 years old, did not take long time to start documenting the lifestyle and publish his work on portuguese magazines. To add to that, he also had publications in some international magazines. Since then, he has been increasingly deepening his professionalism in other fields inside photography, using always the same vision, the same values. Portrait photography, street photography, architecture, or even photography in specific events are part of Tiago's portfolio.
If we could characterize the vision of Tiago it would certainly be Documentary Photography. In all that he does he always seeks the historical side frozen in the present with the aim of being appreciate and possibly studied in the future. His photographic line is very naturalistic, simplistic, sometimes it does not exempt an aesthetic side, but never unrealistic.
He's influenced by artists like James Nachtwey, Don McCullin, Sally Mann, Alec Soth, Fan Ho, William Klein, Robert Frank, Vivien Maier, Lewis Hine, Alfred Stieglitz, Solomon Butcher and much more.
Growing in a digital era, it is digital sensors his main working support but he loves and respect the older techniques, the film, the authenticity from being mechanical, the way he cares each frame. With film, almost 35mm, he has been working on some personal projects.
At 25 years of age, Tiago is still a young photographer with much to learn.
Last January of 2015, he had a good experience traveling to New York city and studying at the International Center of Photography with instructors as Beb Reynol and Harvey Stein. Recently he receive an opportunity from Southern Utah University to make his BA in United States majoring himself in Communication with a specific concentration in Media Studies.
"I want to belong to this new generation of successful photographers. For that I know I need to constantly show hard work, dedication and goal-directness. All of this without forgetting my own personality and identity, to be myself and be recognized for it."
Tiago Costa joined Society6 on December 11, 2014.