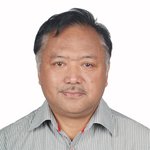 Jamyang Dorjee Chakrishar
About Jamyang Dorjee Chakrishar
Jamyang's calligraphy is a harmonious dance of Buddhist images and elements with his passion for Tibetan language. His rich nature of art encompassing Buddha's Body, Speech and Mind all in one inspired Lama Zopa Rinpoche to call it "Dharma Art".
Boldly experimenting with various mediums and styles, Jamyang's work is a constantly evolving art where contemporary style and technique meets the rich cultural heritage of Buddhism and the Tibetan language.
The startling beauty and detail in Jamyang's work comes from his deep devotion to the teachings of Buddha and his love for the Tibetan language. His work is spread throughout the world in private collections.
Born in Lhasa, Tibet, Jamyang worked as senior official for the Government of Sikkim, India and later joined the Tibetan Government in Exile. Jamyang currently works for the Conservancy of Tibetan Arts and Culture, an NGO dedicated to the preservation of Tibet's living cultural heritage in Tibetan cultural areas and communities around the world.
Jamyang is the current world record holder for the longest calligraphy scroll. He lives and works in Sikkim, India.
Jamyang's official website is
http://www.tibetancalligraphy.com
Jamyang Dorjee Chakrishar joined Society6 on July 8, 2013.