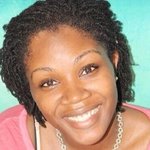 Tiffany Alcide
Tiffany Alcide is a a Mixed Media Artist. Her artwork is based on personal experiences, feelings and passion. Tiffany is also the proud owner of Kritters Craft an Arts/Craft Entertainment company for kids and adults. Her passion for teaching arts/craft developed after her son was born. She thought about how great it would be to bring the creative sessions to the customer instead of the customer trying to find a place to bring their kids. She wanted to present arts and craft in a manner that fostered education, excitement and challenges while developing social skills. This can also be seen in her own artwork in which she always aims to inspire. Tiffany is the founder of the movement WISE Art; Women who Inspire, Strengthen and Empower through Art. The purpose is to celebrate our women in history through creative art, using them and the positive things they have done to inspire others to create something beautiful to share. These women may not necessarily be world-renowned. They could be your mother, your aunt, teacher or even yourself. Tiffany was born in Brooklyn, NY but raised in Soufriere, St. Lucia. Her use of bright colors in her artwork was inspired by her paradise surroundings on the island. You can contact Tiffany at tiffanyalcideart@gmail.com OR facebook.com/tiffanyalcide OR tiffanyalcide.com Tiffany Alcide joined Society6 on October 29, 2013
More
Tiffany Alcide is a a Mixed Media Artist.
Her artwork is based on personal experiences, feelings and passion.
Tiffany is also the proud owner of Kritters Craft an Arts/Craft Entertainment company for kids and adults. Her passion for teaching arts/craft developed after her son was born. She thought about how great it would be to bring the creative sessions to the customer instead of the customer trying to find a place to bring their kids. She wanted to present arts and craft in a manner that fostered education, excitement and challenges while developing social skills. This can also be seen in her own artwork in which she always aims to inspire.
Tiffany is the founder of the movement WISE Art; Women who Inspire, Strengthen and Empower through Art. The purpose is to celebrate our women in history through creative art, using them and the positive things they have done to inspire others to create something beautiful to share. These women may not necessarily be world-renowned. They could be your mother, your aunt, teacher or even yourself.
Tiffany was born in Brooklyn, NY but raised in Soufriere, St. Lucia. Her use of bright colors in her artwork was inspired by her paradise surroundings on the island.
You can contact Tiffany at tiffanyalcideart@gmail.com OR facebook.com/tiffanyalcide OR tiffanyalcide.com
Tiffany Alcide joined Society6 on October 29, 2013.