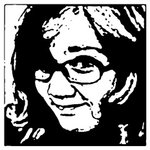 Tiffany Cooper
Hello, I'm Tiffany Cooper and I consider myself to be an Artist. I started out going to college for Art, but then changed my major to Digital Media Design. It is what I love in digital form! Right now I am still going to school, but I almost have my associates degree and then I will go back for my bachelors! I still draw on top of doing digital images. A lot of times I use my drawings for templates to put into my digital work! I hope that you enjoy the work I post on here! I will start selling items as soon as I am able to get verified. Tiffany Cooper joined Society6 on September 10, 2014
More
Hello, I'm Tiffany Cooper and I consider myself to be an Artist. I started out going to college for Art, but then changed my major to Digital Media Design. It is what I love in digital form! Right now I am still going to school, but I almost have my associates degree and then I will go back for my bachelors! I still draw on top of doing digital images. A lot of times I use my drawings for templates to put into my digital work!
I hope that you enjoy the work I post on here! I will start selling items as soon as I am able to get verified.
Tiffany Cooper joined Society6 on September 10, 2014.