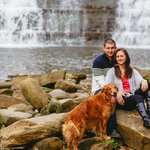 TiffanyOneillPhotography
Tiffany O'Neill is a bakery owner by day, and a photographer by night! Currently living in Cleveland with her Fiancee Matt, Golden Retreiver Samantha, and Calico cat Kaedella. Tiffany studied commercial photography at Ohio University, specializing in food photography with a minor in fine art. Tiffany loves all things food, photography, and fun, and lives her life to the mantra "FOOD IS ART IS LIFE" TiffanyOneillPhotography joined Society6 on December 11, 2013
More
Tiffany O'Neill is a bakery owner by day, and a photographer by night! Currently living in Cleveland with her Fiancee Matt, Golden Retreiver Samantha, and Calico cat Kaedella. Tiffany studied commercial photography at Ohio University, specializing in food photography with a minor in fine art.
Tiffany loves all things food, photography, and fun, and lives her life to the mantra "FOOD IS ART IS LIFE"
TiffanyOneillPhotography joined Society6 on December 11, 2013.