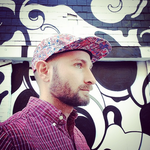 Tigran Jesse
My educational background in architecture and my optimistic perspective has enabled me to work as a designer for a wide variety of projects in the creative industry. As a student, I traveled and studied architecture and urban design in South America and Europe. While in school, I came to understand my potential as an artist and designer. Since graduation, I have been involved in a series of projects as a team member of artists, scientists, and engineers creating prototypes and breakthrough products for both industry and government. Tigran Jesse joined Society6 on January 8, 2015
More
My educational background in architecture and my optimistic perspective has enabled me to work as a designer for a wide variety of projects in the creative industry. As a student, I traveled and studied architecture and urban design in South America and Europe. While in school, I came to understand my potential as an artist and designer.
Since graduation, I have been involved in a series of projects as a team member of artists, scientists, and engineers creating prototypes and breakthrough products for both industry and government.
Tigran Jesse joined Society6 on January 8, 2015.
Tigran Jesse's Store
14 results
Filter