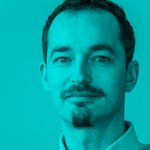 Tilman
Every day I do a new geometric minimal composition and post it at this tumblog geometrydaily.tumblr.com. These will be mirrored on Society6 as soon as I have time to upload them.
If you cannot find a specific graphic, feel free to send an e-mail to Tilman@tint.de and I will put it online. New prints will be announced on Twitter (@Tilman). and http://facebook.com/geometrydaily.
Tilman is an interaction and graphic designer living and working in and near Nuremberg, Germany. I work at a creative agency called The Warriors of the Light. I also teach interaction design at the local University of Applied Sciences.
Read more
Tilman's Store
444 results
Filter