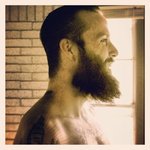 Time To Fight Studio
I have learned everything I know by doing it all wrong the first chance I got. I paint, take pictures, write, make lots of noise without saying anything, I build things, I curse too much, I am allergic to hypocrisy, & I was put here to shake things up... Inspirations: Boredom. The past. The pain that leads to happiness. Burroughs/Bukowski/Wolfe/Thompson. Waits/Bowie/Berry/Balthazar. All the beautiful women. Legos. Rock & Roll. Big John McNatt. Honesty. Tron. Lowbrow. 35.48814,-97.519391 Time To Fight Studio joined Society6 on October 18, 2012
More
I have learned everything I know by doing it all wrong the first chance I got. I paint, take pictures, write, make lots of noise without saying anything, I build things, I curse too much, I am allergic to hypocrisy, & I was put here to shake things up...
Inspirations: Boredom.
The past. The pain that leads to happiness. Burroughs/Bukowski/Wolfe/Thompson. Waits/Bowie/Berry/Balthazar. All the beautiful women. Legos. Rock & Roll. Big John McNatt. Honesty. Tron. Lowbrow. 35.48814,-97.519391
Time To Fight Studio joined Society6 on October 18, 2012.