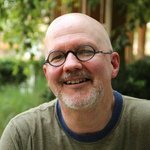 Timothy Springfield
TIM PERSONAL BIO I'm a Nashville, Tennessee based painter. The grandson of a Baptist preacher, I was born and raised in Atlanta, where I soaked up both Southern and Pop culture, developing an artistic sensibility equal parts Howard Finster and Andy Warhol. After attending the Atlanta Art Institute and, later, the Portfolio Center for Advertising Art & Design, I — like Warhol before me — embarked on a career as a commercial artist, which included stints at various ad agencies in Atlanta and Buffalo, New York, as well as the adventure of being a staff artist for the original Cabbage Patch Dolls as they shot to fame. Commercial art instilled in me a sense of discipline, especially when working to a deadline. It also helped hone my drafting skills, which might not have happened had I started my career after the advent of computers. Having always harbored a fondness for both music and Nashville, I moved to town in 1993 and taught graphic design at the Nossi College of Art. Finally deciding to concentrate on painting, I left teaching to work in the hospitality industry — including a stint at the Ryman Auditorium — which really provided inspiration when I thought of all the talent that had played on that stage over the years. In fact, working at the Ryman never seemed like a job to me. I mean, how cool is to get paid to see performers like Willie Nelson and Emmylou Harris up close? It was a wonderful experience. If, like Warhol, I derived inspiration from commercial art, I learned another concept from Howard Finster, which is to use whatever materials are at hand. Many of my current paintings are actually done on cardboard inserts I discovered in cases of Keebler Assorted Cookies at the hotel where I work. I've worked in oils and other media over the years, but don't need expensive canvases to convey what I'm trying to do now, and I like the constraints the size of the panels give me. I think I've got about a hundred of them now. They need attention. I'm looking at a stack of them right now in my studio, and can't wait to fill them up. What is important to me are good paint and good brushes. I don't care if you're painting a wall or anything else, you need good brushes. You can buy a cheap brush but you're not going to get the same effect. (NOTE: When not working or painting, Tim is active in the Nashville art community, and has had work shown in various local galleries.) Timothy Springfield joined Society6 on June 19, 2014
More
TIM PERSONAL BIO
I'm a Nashville, Tennessee based painter. The grandson of a Baptist preacher, I was born and raised in Atlanta, where I soaked up both Southern and Pop culture, developing an artistic sensibility equal parts Howard Finster and Andy Warhol.
After attending the Atlanta Art Institute and, later, the Portfolio Center for Advertising Art & Design, I — like Warhol before me — embarked on a career as a commercial artist, which included stints at various ad agencies in Atlanta and Buffalo, New York, as well as the adventure of being a staff artist for the original Cabbage Patch Dolls as they shot to fame.
Commercial art instilled in me a sense of discipline, especially when working to a deadline. It also helped hone my drafting skills, which might not have happened had I started my career after the advent of computers.
Having always harbored a fondness for both music and Nashville, I moved to town in 1993 and taught graphic design at the Nossi College of Art. Finally deciding to concentrate on painting, I left teaching to work in the hospitality industry — including a stint at the Ryman Auditorium — which really provided inspiration when I thought of all the talent that had played on that stage over the years.
In fact, working at the Ryman never seemed like a job to me. I mean, how cool is to get paid to see performers like Willie Nelson and Emmylou Harris up close? It was a wonderful experience.
If, like Warhol, I derived inspiration from commercial art, I learned another concept from Howard Finster, which is to use whatever materials are at hand. Many of my current paintings are actually done on cardboard inserts I discovered in cases of Keebler Assorted Cookies at the hotel where I work.
I've worked in oils and other media over the years, but don't need expensive canvases to convey what I'm trying to do now, and I like the constraints the size of the panels give me. I think I've got about a hundred of them now. They need attention. I'm looking at a stack of them right now in my studio, and can't wait to fill them up.
What is important to me are good paint and good brushes. I don't care if you're painting a wall or anything else, you need good brushes. You can buy a cheap brush but you're not going to get the same effect.
(NOTE: When not working or painting, Tim is active in the Nashville art community, and has had work shown in various local galleries.)
Timothy Springfield joined Society6 on June 19, 2014.
Timothy Springfield's Store
244 results
Filter