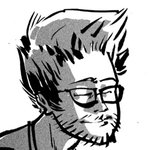 Timothy Weaver
Timothy Weaver is a comic creator and illustrator from White Oak, North Carolina. He has his BFA in Studio Art from East Carolina University with a concentration in Illustration. He was in the Society of Illustrators Student Competition show, if that means anything. He's is also currently loacated in Savannah, Georgia. He hates speaking in the third person.
Read more
Timothy Weaver's Store
Filter
You are currently on society6.com.