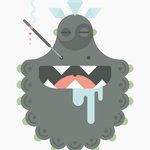 Timvandenbroeck
Tim draws colourful pictures and letters. His work is fluid, colourful and chunky. If he can he likes to put in small visual ideas and funny characters.
He lives, works and plays in Antwerp. He used to work in advertising as an art director. Now he creates all kinds of graphic stuff for small and large clients who sometimes pay him. He should make more personal work.
Tim likes cookies, coffee, basketball, beards and funny words that end with 'y': nippy, sneaky, snarfy... Feel free to send him some new words if you want to see him laugh like Muttley from Whacky Races.
Read more
Timvandenbroeck's Store
Filter