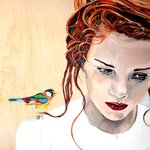 jsandersart
Over the last couple of years, my work has involved the creation of narrative scenes of objects or figures, deeply layered with patterns and embellished with bits of typography. Some are about dreams, some about places, all have a rich sensibility. I started working with acrylic and then began layering patterns and other found objects into my paintings, often repeating silhouettes or objects throughout a body of work so that these cross pollinate each other. I have an affinity for natural materials and richly colored patterns due to my background in woodcut printmaking and graphic design. To view additional work, please visit jsandersart.com. jsandersart joined Society6 on November 18, 2015
More
Over the last couple of years, my work has involved the creation of narrative scenes of objects or figures, deeply layered with patterns and embellished with bits of typography. Some are about dreams, some about places, all have a rich sensibility. I started working with acrylic and then began layering patterns and other found objects into my paintings, often repeating silhouettes or objects throughout a body of work so that these cross pollinate each other. I have an affinity for natural materials and richly colored patterns due to my background in woodcut printmaking and graphic design.
To view additional work, please visit jsandersart.com.
jsandersart joined Society6 on November 18, 2015.
jsandersart's Store
19 results
Filter