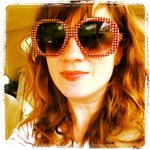 tippytippens
Tippy Tippens is a social entrepreneur and photography fan living in New Orleans trying her best to help make the world a more sustainable place. Help me pay my student loans by purchasing these prints and other goodies! Merci beaucoup et mmmmwah! Nice op-ed here on how heavy student loan debt is on graduates in the new york times: http://opinionator.blogs.nytimes.com/2013/05/12/student-debt-and-the-crushing-of-the-american-dream/ tippytippens joined Society6 on May 11, 2013
More
Tippy Tippens is a social entrepreneur and photography fan living in New Orleans trying her best to help make the world a more sustainable place. Help me pay my student loans by purchasing these prints and other goodies! Merci beaucoup et mmmmwah!
Nice op-ed here on how heavy student loan debt is on graduates in the new york times: http://opinionator.blogs.nytimes.com/2013/05/12/student-debt-and-the-crushing-of-the-american-dream/
tippytippens joined Society6 on May 11, 2013.
tippytippens's Store
80 results
Filter