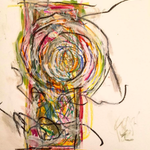 TJ Walsh
TJ Walsh, BFA, MA (b. 1985) is a: Painter, Art and Higher Education Administrator, Mental Health Professional.
TJ received his BFA Graphic Design/Painting, The University of the Arts, Philadelphia. Received his MA in Counseling Psychology at Eastern University, Saint Davids, PA.
TJ is the President of the board at SUDA PAC, a political action committee dedicated to suppoerting pro-public educations candidates in Pennsylvania.
He is the Manager of Alumni and Parent Relations at The University of the Arts and has also provided clinical counseling services to students through the Dean of Students Office.
Prior to his work in higher education administration, Walsh was a Creative Director and Director of Communications for several national and international nonprofit organizations. He has professional experience in successful brand development, corporate communications, non-profit marketing, social media engagement, fundraising communications, project management, and strategic planning.
TJ's work as a painter has garnered acclaim at home in the Philadelphia region as well as across the country and overseas. He has a very active painting studio in Media-Aston, PA.
Walsh has written on the topics of art, culture, faith & mental health. His work has been exhibited and published internationally.
Read more