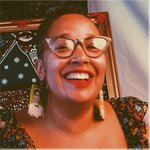 Tiffany Lenoi Jones
ABOUT ME: Tiffany L. Jones is an artist, teacher and designer. She is Southern feed and New York City breed. She loves colors, beads, laughter, fabric, paint, oddities, fashion, sharing, cooking, creating, dancing and learning. She loves music. Any kind of music. She is known for having many hairstyles and a collection of eyewear. She adores her family.
She is storyteller, a skill learned from her parents. She is committed to unearthing the intersections of our stories to provide opportunities for growth and healing. She believes everyone has a story to tell and to learn from.
She studied graphic design and received a BA in Graphic Communications. While in college she was an apprentice/assistant to doll and textile artist Adrienne McDonald, in which she learned the art of cloth doll making and began Love, Mama dolls in 2001. With her passion for teaching, social change and art making Tiffany pursued a Master's degree in Art Education from New York University. In 2010 she became an Art Educator and Urban Arts Partnership site coordinator at Facing History High School. During her tenure as the Art Team Facilitator, she founded the schools Art Club, Art Crew,co-founded the young women's club, Unity, and lead the schools art events such as CTP, the senior social justice art exhibit.
Currently she is an Art Teacher in the New York City Public School system. She can be found advising art organizations, creating art and advocating for Art Education in the lives of young people in NYC. You may also find her dancing with friends to house music, enjoying the breeze, reading a book, or cooing over cute babies.
ARTIST STATEMENT: I am a woman of color born, raised and living in the United States. My genealogy is representative of this lands bloody, painful and complex history. Oppression and struggle for ones validity in the world is rooted in my family tree. I am the daughter of enslaved African women, who were brought to a new land as dehumanize labor and wombs served as factories for the early American economy. I am the offspring of European colonial enslavers, who lust procreated profitable mulattos for the slave auction blocks. I am the granddaughter of the people who lived here before the land was referred to as the "New World". I am the direct descendent of American history. My existence is a constant reminder that in this country slavery, genocide, cultural repression and terrorism happened here. My bloodline has afforded me with a heighten awareness and curiosity of the historical implications of my experience as a woman of color living in the post-colonial Western World.
As a woman of color living in the post-colonial Western World my experience as well as identity has been impacted by the oppressive nature of racism, sexism, classism and homophobia. Furthermore the inherited trauma caused by the intellectual, cultural and spiritual repression of those who are descendants of Africa has deeply influenced my development. Carmen Braun Williams asserts the multitude of constraints African American women face promote the growth of a multi layered identity however this growth should not be understood in terms of defeat. Williams states "girls use personal agency, that is, the ability to effectively change and intervene in one's own circumstance". (Williams, 2005). As a result continually researching the histories of the sociological and physiological conditions that are influential in the development of African Diaspora womanhood has been my form of "personal agency".
I create visual and tangible artifacts that are representative of my "personal agency". Ultimately my body of work considers my genealogical relationship to historical discourse. In 2003 during the conference "A New Frontier: Blacks in Science Fiction," Octavia Butler listed the three categories of science fiction as "what if, if only, and if this goes on." (Pough, 2005) Questioning "what if, if only, and if this goes on" is indicative to my art making. As an artist it is my intent to create a space in which the interconnectivity of the past, present and future of the African Diaspora is revealed.
Read more
Prints by Tiffany Lenoi Jones
Filter
Prints by Tiffany Lenoi Jones