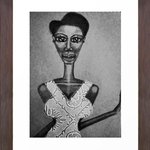 TNP Scribble
Creator & Designer. Writer & Illustrator of my self-publications. The TNP Scribble project only came about while I was working on the manuscript for 'Instruments of Praise & Acts of Worship'. It started off as simple doodling, but gradually evolved into the perfect illustrations for the concept of my book. The images help to bring the pages alive adding a playful dimension to the aesthetic of the message. In the drawing of caricatures, I have found that there is beauty even in the distorted perceptions of the human mind. So it's okay to be different. Imperfections can be beautiful too. The culmination of a background rich in African culture and a Christian faith, I'm creating a platform for the freedom of expression; with the aim of being a positive cultural influence on a younger generation of people. "My beauty is beautiful too" IG: https://www.instagram.com/tnpscribble/ TNP Scribble joined Society6 on August 18, 2014
More
Creator & Designer. Writer & Illustrator of my self-publications.
The TNP Scribble project only came about while I was working on the manuscript for 'Instruments of Praise & Acts of Worship'. It started off as simple doodling, but gradually evolved into the perfect illustrations for the concept of my book. The images help to bring the pages alive adding a playful dimension to the aesthetic of the message.
In the drawing of caricatures, I have found that there is beauty even in the distorted perceptions of the human mind. So it's okay to be different. Imperfections can be beautiful too.
The culmination of a background rich in African culture and a Christian faith, I'm creating a platform for the freedom of expression; with the aim of being a positive cultural influence on a younger generation of people.
"My beauty is beautiful too"
IG: https://www.instagram.com/tnpscribble/
TNP Scribble joined Society6 on August 18, 2014.
TNP Scribble's Store
223 results
Filter