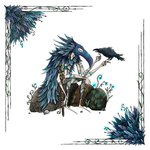 Tom Charlesworth
Tom Charlesworth is an illustrator originally from a town in Somerset called Frome who likes to create illustrations with a sense of narrative. He is inspired by nature, folklore, and nautical themes, and likes to add these themes into his work, which tends to include fantasy or mythic elements. He generally works using pen, ink, watercolour and gouache, often using a distinct colour palette of blues, turquoises and greens. See more at http://tomcharlesworthillustration.co.uk/ do send me an email if a particular illustration isn't currently available on society 6. Tom Charlesworth joined Society6 on May 16, 2013
More
Tom Charlesworth is an illustrator originally from a town in Somerset called Frome who likes to create illustrations with a sense of narrative. He is inspired by nature, folklore, and nautical themes, and likes to add these themes into his work, which tends to include fantasy or mythic elements. He generally works using pen, ink, watercolour and gouache, often using a distinct colour palette of blues, turquoises and greens.
See more at http://tomcharlesworthillustration.co.uk/ do send me an email if a particular illustration isn't currently available on society 6.
Tom Charlesworth joined Society6 on May 16, 2013.