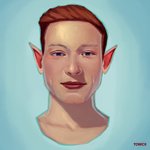 Tomcii
Welcome! I'm Thomas aka Tomcii! I'm 23, a Digital Illustrator who studied Graphic Design. I'm open to do commissions! Portraits, animal paintings, landscapes, etc.! Check out my website Tomcii.com for more info! Contact Info: tomciiart@gmail.com Make sure to follow me on my socials: Instagram: http://instagram.com/tomcii Twitter: http://twitter.com/Tom_Cii Twitch: https://www.twitch.tv/tomcii Youtube: https://www.youtube.com/tomciiart Tomcii joined Society6 on August 3, 2012
More
Welcome! I'm Thomas aka Tomcii! I'm 23, a Digital Illustrator who studied Graphic Design.
I'm open to do commissions! Portraits, animal paintings, landscapes, etc.! Check out my website Tomcii.com for more info! Contact Info: tomciiart@gmail.com
Make sure to follow me on my socials:
Instagram: http://instagram.com/tomcii Twitter: http://twitter.com/Tom_Cii Twitch: https://www.twitch.tv/tomcii Youtube: https://www.youtube.com/tomciiart
Tomcii joined Society6 on August 3, 2012.