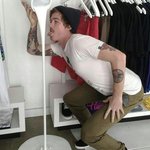 Tommy Stewart
Hey! I'm Tommy Stewart. I am a Graphic Designer specializing in Illustration, Print Making, Lettering, Identity, Branding, Apparel Art, and Creative Consulting. I currently dwell in Costa Mesa, CA where I do full time apparel graphics and textile design for Volcom. I am a firm believer in quality over quantity and the beauty of crafting by hand. lets be friends :) www.tommy-stewart.com IG @space_freckles Tommy Stewart joined Society6 on January 31, 2014
More
Hey! I'm Tommy Stewart. I am a Graphic Designer specializing in Illustration, Print Making, Lettering, Identity, Branding, Apparel Art, and Creative Consulting. I currently dwell in Costa Mesa, CA where I do full time apparel graphics and textile design for Volcom. I am a firm believer in quality over quantity and the beauty of crafting by hand.
lets be friends :)
www.tommy-stewart.com IG @space_freckles
Tommy Stewart joined Society6 on January 31, 2014.