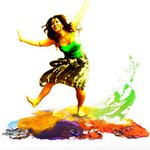 Tomo Mori Art
BIO: Tomo Mori / 毛利友 is a native of Japan. She currently works in West Harlem as her creative base. She studied fundamental painting and drawing at Tokyo Metropolitan High School for Art and graduated from Atlanta Collage of Art with BFA. Her work has been exhibited in New York, Atlanta and Tokyo, including Rogue Space Chelsea, chashama, Dwyer Center, Andrew Freedman Home, Canvas Paper Stone Gallery, Renaissance Fine Art, Knox Gallery, Bill Lowe Gallery and Tokyo Metropolitan Museum. She received the congressional record for her winning painting for Bid on Culture for 2011 and 2012. In 2011, she was selected as a semi finalist for MTA Art in Transit. Tomo recently received the Hiroshi Senju award at Japan Day Central Park event. STATEMENT: I have been working with my signature method, canvas-on-canvas collage since 2010. The images echo the pixilation of the digital age while the method itself hearkens back to a more time-honored tradition of mosaic technique. Aggregated small pieces of colors create a world, just like thousands of pixels create digital images. Tomo Mori Art joined Society6 on August 12, 2013
More
BIO: Tomo Mori / 毛利友 is a native of Japan. She currently works in West Harlem as her creative base. She studied fundamental painting and drawing at Tokyo Metropolitan High School for Art and graduated from Atlanta Collage of Art with BFA. Her work has been exhibited in New York, Atlanta and Tokyo, including Rogue Space Chelsea, chashama, Dwyer Center, Andrew Freedman Home, Canvas Paper Stone Gallery, Renaissance Fine Art, Knox Gallery, Bill Lowe Gallery and Tokyo Metropolitan Museum. She received the congressional record for her winning painting for Bid on Culture for 2011 and 2012. In 2011, she was selected as a semi finalist for MTA Art in Transit. Tomo recently received the Hiroshi Senju award at Japan Day Central Park event.
STATEMENT: I have been working with my signature method, canvas-on-canvas collage since 2010. The images echo the pixilation of the digital age while the method itself hearkens back to a more time-honored tradition of mosaic technique. Aggregated small pieces of colors create a world, just like thousands of pixels create digital images.
Tomo Mori Art joined Society6 on August 12, 2013.
Tomo Mori Art's Store
10 results
Filter