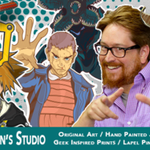 Tom Ryan's Studio
I'm in artist who enjoys painting and recently vector art. As you can see from my work I love painting animals and created works based on movies. Please feel free to say hi here or through my web page: http://www.TomRyansStudio.com And also we can't forget Facebook: http://www.facebook.com/tomryansstudio Thanks and I hope you enjoy the work! :) Tom Ryan's Studio joined Society6 on April 22, 2010
More
I'm in artist who enjoys painting and recently vector art. As you can see from my work I love painting animals and created works based on movies.
Please feel free to say hi here or through my web page:
http://www.TomRyansStudio.com
And also we can't forget Facebook:
http://www.facebook.com/tomryansstudio
Thanks and I hope you enjoy the work! :)
Tom Ryan's Studio joined Society6 on April 22, 2010.