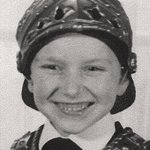 Toon Joosen
Hello i'm Toon Joosen – dutch art director and visual designer. I graduated from the Academy of Modern Arts St. Joost – graphic design department. I've worked for several advertising agencies on different accounts. Since 1998 I have my own studio called 'TOON concept, art direction & design'. I work for advertising acencies, publishers and for several private clients. I usually design logos, corporate identities, flyers, posters, magazines and books. In my free time I love to make my own artworks. My ideas are based on daily observations and ordinary objects. I use magazines, postcards, paper, streetjunk, own photography and own drawings to create tongue-in-cheek scenarios with a vintage feel. I usually put them on Instagram. Toon Joosen joined Society6 on October 21, 2014
More
Hello i'm Toon Joosen – dutch art director and visual designer. I graduated from the Academy of Modern Arts St. Joost – graphic design department. I've worked for several advertising agencies on different accounts. Since 1998 I have my own studio called 'TOON concept, art direction & design'. I work for advertising acencies, publishers and for several private clients. I usually design logos, corporate identities, flyers, posters, magazines and books.
In my free time I love to make my own artworks. My ideas are based on daily observations and ordinary objects. I use magazines, postcards, paper, streetjunk, own photography and own drawings to create tongue-in-cheek scenarios with a vintage feel. I usually put them on Instagram.
Toon Joosen joined Society6 on October 21, 2014.