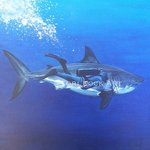 Tori Lock Art
After moving to the North Shore of Oahu from Southern California, I was forced to find and embrace what was most important in my life. I came down to three simple, crucial elements to making happiness; art, nature, and family. Life suddenly seemed much simpler, and much more gratifying. Now, I create art to spend time with the wildlife I can normally only admire from afar. I create art because it makes my friends and family proud. And I create art because we should all strive to leave something beautiful in our footprints. My idea of success as an artist is to bring my art to the public, and share it with as many people as possible. Ultimately, I want my art to do good, for its viewers and subjects. As my portfolio builds, I will begin to donate percentages of my profits to various charities and organizations, based on subject matter. I want those that purchase my paintings to know that their money is going to support a cause for the animal featured on their chosen piece, domestic or wild. Tori Lock Art joined Society6 on December 1, 2013
More
After moving to the North Shore of Oahu from Southern California, I was forced to find and embrace what was most important in my life. I came down to three simple, crucial elements to making happiness; art, nature, and family. Life suddenly seemed much simpler, and much more gratifying. Now, I create art to spend time with the wildlife I can normally only admire from afar. I create art because it makes my friends and family proud. And I create art because we should all strive to leave something beautiful in our footprints.
My idea of success as an artist is to bring my art to the public, and share it with as many people as possible. Ultimately, I want my art to do good, for its viewers and subjects. As my portfolio builds, I will begin to donate percentages of my profits to various charities and organizations, based on subject matter. I want those that purchase my paintings to know that their money is going to support a cause for the animal featured on their chosen piece, domestic or wild.
Tori Lock Art joined Society6 on December 1, 2013.
Tori Lock Art's Store
55 results
Filter