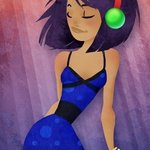 Toronto Sol
Thank you.
That's it. Those two words, from me to you, are the only ones that ever need be said, and will remain forever relevant.
Thank you to everyone that's favourited or shared or showed their appreciation for my work in their own way or by shooting me a mail. Thank you to those that wanted to show their support by adorning themselves or something they own with one of my pieces. "Whoa…that is so cool." – my brain the first time I received an e-mail telling me so…and every time since.
You guys are the reason I keep doing this. Granted, like any creative, I'd probably keep going regardless – for a while – but I wouldn't be so excited to post and share if it weren't for you motivating me, encouraging me and making me realize it's okay to love what I do. That's a huge gift, thank you.
To anybody that has received one of my pieces, I'd love to see an "action" shot! (Especially been curious about how some of the more intricate ones with transparencies have been printing on cloth… If they've been losing detail compared to on screen I'd love your help figuring that out and will make the effort to simplify future designs.) You can use the tag #penunderpressure if you're on tumblr , or post it to my art FB (facebook.com/coledraws) page Or just feel free to follow either/both to see stuff previews of upcoming designs before release.
tl;dr: THANK YOU
Read more
Toronto Sol's Store
Filter