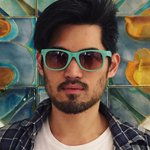 Torr
Torr is a Multidisciplinary artist who works in Photography, Photomontages, Collages, Painting and Drawing living in Los Angeles, California, USA and Berlin, Germany . He combines subject matters to create a whole new version of the inspired captivating substance. Although Torr constantly loves to switch up his medium and explore new, Black and White Charcoal on Newspaper figure drawings are his favourite. All original artworks by Winston Torr. For Inquires: torrarts@gmail.com Instagram @WinstonTorr winstontorr.com Torr joined Society6 on November 17, 2013
More
Torr is a Multidisciplinary artist who works in Photography, Photomontages, Collages, Painting and Drawing living in Los Angeles, California, USA and Berlin, Germany .
He combines subject matters to create a whole new version of the inspired captivating substance.
Although Torr constantly loves to switch up his medium and explore new, Black and White Charcoal on Newspaper figure drawings are his favourite.
All original artworks by Winston Torr.
For Inquires: torrarts@gmail.com
Instagram @WinstonTorr
winstontorr.com
Torr joined Society6 on November 17, 2013.