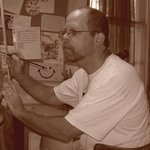 Tracy E Flynn
About I am an ILLUSTRATOR first and foremost, I put pictures to words, the artist comes afterwords.
Available for commission and other work!!! Biography In my world, dragons still exist, knights in shining armour still rescue damsels in distress, and trolls still live under bridges waiting on billygoats. It truly is a wonderful world.
This world can be yours too, let me do it for you
Specialties:I do fantasy, sci/fi , cartooning, children's book and Biblical illustration, Although I do tend to specialize in Fantasy, and Horror, I do not and will not limit myself to any specific genre, I love to put pictures to words and have I wide and diverse interests and that keeps me fresh as well as busy.
Read more
Tracy E Flynn's Store
Filter