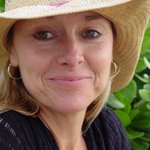 Tracy DeCamp
Hi Everyone, glad you came by my shop on Society6. I'm Tracy DeCamp. I grew up in Baltimore, MD with mom, dad and 3 younger brothers. After high school, I went to Virginia Commonwealth University in Richmond, VA and studied fashion design and illustration. Out of school, I freelanced as a fashion illustrator for shops and magazines all around Baltimore, Richmond, and Washington DC. I married my college sweetheart, Rick, in 1988. We started out in NoVa and later moved to Tampa, FL where we had my son, Cameron. Two years later we moved to Seattle and I had my second son, Kyle. All this time, selling my paintings and commissioned pet portraits to an expanding clientelle. Some of these these pieces can be seen on my website at, www.tracysart.com. Jump ahead 13 years and now my work now includes fashion jewelry, garments, and accessories -- selling them out of my studio, in local art shows and galleries. My work is different and hopefully inspiring. I am passionate about wildlife, fashion, flowers and pets as you can see. And, I'm glad I can share it with you here. With love, Tracy Tracy DeCamp joined Society6 on June 25, 2013
More
Hi Everyone, glad you came by my shop on Society6.
I'm Tracy DeCamp. I grew up in Baltimore, MD with mom, dad and 3 younger brothers.
After high school, I went to Virginia Commonwealth University in Richmond, VA and studied fashion design and illustration. Out of school, I freelanced as a fashion illustrator for shops and magazines all around Baltimore, Richmond, and Washington DC.
I married my college sweetheart, Rick, in 1988. We started out in NoVa and later moved to Tampa, FL where we had my son, Cameron.
Two years later we moved to Seattle and I had my second son, Kyle. All this time, selling my paintings and commissioned pet portraits to an expanding clientelle. Some of these these pieces can be seen on my website at, www.tracysart.com.
Jump ahead 13 years and now my work now includes fashion jewelry, garments, and accessories -- selling them out of my studio, in local art shows and galleries.
My work is different and hopefully inspiring. I am passionate about wildlife, fashion, flowers and pets as you can see. And, I'm glad I can share it with you here. With love, Tracy
Tracy DeCamp joined Society6 on June 25, 2013.