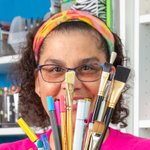 Trena Brannon Art
Advocates for Kindness, Inclusion and Positivity
Be Kind. Compassion changes everything.
Trena Brannon is based in Southeast Michigan. She has many identities including freelance artist and IT professional. Trena has a passion for color and and a passion for people. She is just excited to make art! Trena finds joy in creating interesting pieces that will result in rich color, contrast, texture and movement. Much of her work captures people's faces and joy in life – people of all colors, shapes, sizes, ages, and abilities. Trena finds inspiration everywhere and uses a variety of art supplies to develop a piece.
Among her artistic contributions, she owns The Brannon Factory® greeting card business, is a contributing artist at StencilGirl® products, has served on a variety art & craft design teams, and has been published in art & craft magazines.
http://trenabrannonart.com/ https://www.instagram.com/trenabrannon/
Contact: trena@trenabrannonart.com
Read more