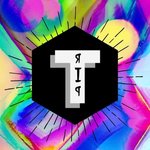 The Trip Morris Experience
Artist Statement: Trip is a self-taught New York artist who creates multiple stories within every piece he makes. He creates arts of the surreal, abstract, and expressionism. He often enjoys hiding and layering imagery, references, or even a completely different painting that can be seen when one shifts their own perception of things. Many references he makes can go over people's heads and not even be noticed. He enjoys making art for constant ponderers. His main goal is to make people think and have fun doing what he loves to do. He may not be fond of his childhood memories, but he makes the best of what he does. There are always multiple meanings to his art, he rarely speaks of every meaning. He also enjoys his own anonymity and does not like to put a face to his artwork. Bio: Trip Morris has been raised in New York City. He is a self-taught artist who often portrays abstract themes with metaphorical truths. Many times there can be a form of questioning or social commentary in his work, along with a story that is often attached to the painting. He also creates many spiritual references, in his work. One could describe his art as "conscious art." The technique Trip uses in the majority of his paintings are through the medium of digital painting and his style of painting makes his art look more traditional. The reason he started with only an Ipad, was because he could not afford supplies. Only up to a year ago has he been feeling like an actual person rather than a shadow forced to be portrayed onto a wall opposite of where the light shines onto on object. Things he has experienced such as a high school education and childhood have only been a concept of a fairy-tale to him. He has been dealt many hands, whether disturbing, and psychologically sabotaging, or pleasant and life changing, makes the best of what he is given. He also does not like whining about what kind of things did or did not happen in his own past. Trip Morris can be considered almost hybrid between existentialist and nihilist. He was introduced to creating art in high school because Trip was so painfully bored as well as often harassed or abused by others and often it was the only thing that distracted him from the troubles ensuing around him. He does not believe they were horrible classes only that they did not benefit his own being. He feels if one were to see his life in terms of obstacles, they could possibly describe it as a pinball machine going at light speeds. Trip hopes his art reaches others and causes them to think. Not only temporarily, but to make them truly think. He passively and sometimes aggressively references the most prominent problems of man as a whole. The first thing many people tend to notice with my art are the very vibrant and almost psychedelic style, as well as that it does not look completely digital nor traditional. His influences in art, are the past versions of myself who didn't have that outlet or strength to become the person he is today. The Trip Morris Experience joined Society6 on September 21, 2016
More
Artist Statement:
Trip is a self-taught New York artist who creates multiple stories within every piece he makes. He creates arts of the surreal, abstract, and expressionism. He often enjoys hiding and layering imagery, references, or even a completely different painting that can be seen when one shifts their own perception of things. Many references he makes can go over people's heads and not even be noticed. He enjoys making art for constant ponderers. His main goal is to make people think and have fun doing what he loves to do. He may not be fond of his childhood memories, but he makes the best of what he does. There are always multiple meanings to his art, he rarely speaks of every meaning. He also enjoys his own anonymity and does not like to put a face to his artwork.
Bio:
Trip Morris has been raised in New York City. He is a self-taught artist who often portrays abstract themes with metaphorical truths. Many times there can be a form of questioning or social commentary in his work, along with a story that is often attached to the painting. He also creates many spiritual references, in his work. One could describe his art as "conscious art." The technique Trip uses in the majority of his paintings are through the medium of digital painting and his style of painting makes his art look more traditional. The reason he started with only an Ipad, was because he could not afford supplies.
Only up to a year ago has he been feeling like an actual person rather than a shadow forced to be portrayed onto a wall opposite of where the light shines onto on object. Things he has experienced such as a high school education and childhood have only been a concept of a fairy-tale to him. He has been dealt many hands, whether disturbing, and psychologically sabotaging, or pleasant and life changing, makes the best of what he is given. He also does not like whining about what kind of things did or did not happen in his own past.
Trip Morris can be considered almost hybrid between existentialist and nihilist. He was introduced to creating art in high school because Trip was so painfully bored as well as often harassed or abused by others and often it was the only thing that distracted him from the troubles ensuing around him. He does not believe they were horrible classes only that they did not benefit his own being. He feels if one were to see his life in terms of obstacles, they could possibly describe it as a pinball machine going at light speeds.
Trip hopes his art reaches others and causes them to think. Not only temporarily, but to make them truly think. He passively and sometimes aggressively references the most prominent problems of man as a whole. The first thing many people tend to notice with my art are the very vibrant and almost psychedelic style, as well as that it does not look completely digital nor traditional. His influences in art, are the past versions of myself who didn't have that outlet or strength to become the person he is today.
The Trip Morris Experience joined Society6 on September 21, 2016.