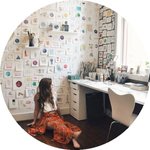 Trisha Thompson Adams
Artist/Virgo My name is Trisha -- I'm an artist currently living in Oklahoma City. My main focus is working with oil paint to create feminine and delicate paintings that soften how we typically view the human body within the natural world. I'm inspired by things that are full of life and full of death. Many of my pieces focus on the harmony between humans/animals with nature, often intwining flora with the human body and other earthly and celestial elements. I'm continually exploring the depths of life, death, and rebirth. Other places you can find me… Shop: http://tinyartshop.etsy.com/ Twitter: http://twitter.com/tinyartshop Tumblr: http://tinyartshop.tumblr.com/ Instagram: http://instagram.com/trishathompsonadams Trisha Thompson Adams joined Society6 on September 10, 2010
More
Artist/Virgo
My name is Trisha -- I'm an artist currently living in Oklahoma City. My main focus is working with oil paint to create feminine and delicate paintings that soften how we typically view the human body within the natural world. I'm inspired by things that are full of life and full of death. Many of my pieces focus on the harmony between humans/animals with nature, often intwining flora with the human body and other earthly and celestial elements. I'm continually exploring the depths of life, death, and rebirth.
Other places you can find me…
Shop: http://tinyartshop.etsy.com/ Twitter: http://twitter.com/tinyartshop Tumblr: http://tinyartshop.tumblr.com/ Instagram: http://instagram.com/trishathompsonadams
Trisha Thompson Adams joined Society6 on September 10, 2010.
Phone Skins iPhone 8 by Trisha Thompson Adams
11 results
Filter