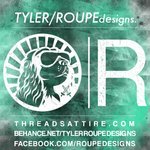 TYLER ROUPE
I use my craft to create imagery that appeals to myself and clients of mine. I enjoy getting the chance to have as much freedom when it comes to designing. Here on this sight are some of my designs that served no more purpose then my own personal enjoyment. I hope you enjoy them and I plan to continue posting different projects. ThreadsAttire.com Behance.net/TylerRoupeDesigns Graphic Designer, Musician, Artist, Founder of Threads Attire® TYLER ROUPE joined Society6 on August 17, 2014
More
I use my craft to create imagery that appeals to myself and clients of mine. I enjoy getting the chance to have as much freedom when it comes to designing. Here on this sight are some of my designs that served no more purpose then my own personal enjoyment. I hope you enjoy them and I plan to continue posting different projects.
ThreadsAttire.com Behance.net/TylerRoupeDesigns
Graphic Designer, Musician, Artist, Founder of Threads Attire®
TYLER ROUPE joined Society6 on August 17, 2014.